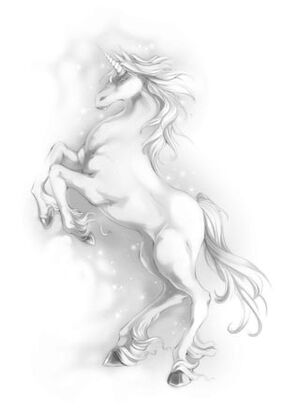 Unicorns are the most legendary and powerful of all magical animals - highly sought after and coveted by those seeking magic. Fast as lightning, unicorns can run upon the magic web itself, transporting themselves and their rider anywhere on the web without the need of a portal.
To prepare themselves for this sacred duty, unicorn foals are often sent to Dalriada, the home of the Unicorn Academy, where they develop their horns, unlock their magic and true colors, and learn to control their powers.
Apparently baby unicorns are not born with their horns; they grow once they tap into their magical potential. Once their horns grow in, their fur changes to their true color, which can be anything. Initially, the Mages thought all unicorns were silvery white because of the first two unicorns they met until they met the freshman class in Song of the Unicorns.
Notable unicorns
Edit
See also
Edit
Ad blocker interference detected!
Wikia is a free-to-use site that makes money from advertising. We have a modified experience for viewers using ad blockers

Wikia is not accessible if you've made further modifications. Remove the custom ad blocker rule(s) and the page will load as expected.