The Warlock Diaries & Legend of the L.A.O.A.

Author
Rachel Roberts
Illustrator
Edward Gan (part 1)
Shiei (parts 2 and 3, cover)
Allison Strom (omnibus cover)
Publication date
June 2009 (part 1)
October 2009 (part 2)
March 2010 (part 3)
December 2010 (omnibus)
Published by
Seven Seas
Publication Order
Preceded by
Heart of Avalon
Followed by
Dark Mage
Avalon: The Warlock Diaries is a 'manga' comic spin-off of the Avalon: Web of Magic novel series, inspired by the Princess Gwenevere and the Jewel Riders episode "Love Stuck".
It was published with the short story ''Legend of the L.A.O.A.", inspired by the Jewel Riders episode "Sweet Home Hear Stone".
Avalon: The Warlock DiariesEdit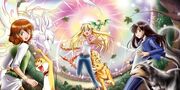 When a monster attacks,
Team Magic
is on it. The problem, they cannot defeat it. They have tried everything, but when a new boy shows up, and makes the monster shrink into a little cute animal, they know he is magical. So what could be the problem? They are not sure if he is good. If he is good, he could be a big part of the quest for
Avalon
, or he could ruin everything they've worked for.
Characters
Edit
Legend of the L.A.O.A.Edit
A three part short story about Sierra, Zach and Tasha. When they meet strange animals, that do not speak their language, they know there is something unusual is going on. These animals are unlike any others that they have seen before, their unlike anything anyone alive has seen before.
Characters
Edit
External links
Edit