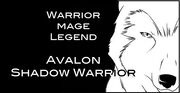 Avalon: Shadow Warrior
was a planned sequel to
Avalon: Web of Magic
, a trilogy centered around
Adriane
.
Shadow Warrior was supposed to be published in 2011 but was never released.
Now that she has Shadow magic, and Mistwolf magic, it will be very dangerous to give in to either of them. She is also a Level 3 mage. The Dark Sorceress is gone, but they have a new villain, the Shadow Master, to deal with.
A lot is to be revealed about Zach's unknown history, the mistwolves, and the other mages. They are in high school, and there will be new mages and new bondeds.
Ad blocker interference detected!
Wikia is a free-to-use site that makes money from advertising. We have a modified experience for viewers using ad blockers

Wikia is not accessible if you've made further modifications. Remove the custom ad blocker rule(s) and the page will load as expected.